Diving Deep
Jobs at Sea
The world moves by the waves. The sea is our great unifier, providing essential resources while connecting us across vast distances. Maritime workers form the backbone of our oceans, keeping the world fed and the global economy moving.
We connected with maritime workers across three critical industries—marine construction, fishing, and fish preparation—where pride and pressure run high. For these workers, it is not just a job. It is a way of life.
Marine Construction, Curtin Maritime
1,000 miles south of Hawaii, a crew lifted shipwrecks from an isolated patch of sea. Thousands of miles north, crews towed a
two–million–pound crane from the Pacific Northwest to a U.S. Navy shipyard in Maine. Neither project was unexpected for those who work in marine construction.
Maritime workers in this industry operate under incredible pressure. Their wide–ranging projects impact all other maritime industries, from energy to fishing. We spoke with Chase Henderson, a seasoned maritime worker in marine construction, to understand the importance of the job, what it takes, and what drives people to this work.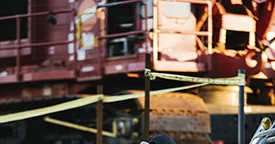 Most people think the ship gets to port, ties up, containers get offloaded, and they get delivered, Chase explained. But what does the ship tie up to? It's tying up to a pier. Who builds the pier?
Marine construction keeps the world's ships moving. These workers maintain and improve ports, channels, and waterways, helping to keep costs down for consumers down the line.
A tremendous percentage of the world's goods move by ship, and marine construction builds the infrastructure to allow for global trade, Chase said. The effects are felt everywhere.
It takes more than grit to work in marine construction. A marine construction worker must be mentally and physically strong, constantly aware of evolving risks, and determined to get the job done.
To say the work is physically demanding is an understatement, Chase said. You might spend 14 hours with a needle gun and a grinder in your hand all day, and when you finish, you can't feel your hands.
These workers are committed to the job, a key trait when at sea for months at a time. As Chase explained, You spend a lot of time away from home—and you just have to keep working hard.
With the physical demands, months-long voyages, safety risks, and incredible pressure, why do people choose marine construction? For Chase, it comes down to the thrill, the sea, and the crew.
It's high-pressure stuff, Chase explained. That's why we do it—there's nothing like it. We might do two jobs that are similar, but they're never the same, and each one has its own set of challenges.
Additionally, the maritime workers in Chase's industry are naturally drawn to the ocean.
As with most of the people I work with every day, I got into this from a love for the ocean, and a love for heavy equipment, fishing, surfing, and just being on the water, he said.
But the greatest reason for being in this line of work, according to Chase, is the people.
We love to work with people that you want to hang out with and have beers with after work, because that's what makes it fun,
he explained.
When you're on a tugboat with five other people for months, they better be people you want to hang out with. – Chase Henderson
Commercial Fishing, Lobster Fisherman
As the towering coastal trees fade into the fog and the icy waves grow in intensity, a long day at sea lies ahead for lobster fisherman Jacob Knowles. Following in the footsteps of his father—and his grandfather, great-grandfather, and great–great–grandfather—he readies the crew for the first catch of the day.
Lobster fishing is more than a job for Jacob. It is an obligation to the sea—a commitment to protect its most treasured creatures while providing for those back on land. It is a way of life passed down through five generations. It takes grit, determination, and an endless appreciation for the ocean.
Lobster fishing off the coast of Maine is a dynamic, thoughtful endeavor. Jacob and his crew must carefully analyze each lobster to determine its size, breeding ability, age, and other characteristics that dictate whether it will be kept or returned to the ocean.
There's three of us total on the boat, Jacob explained. Very repetitive jobs—it's the same motions all day every day.
Breeders get tagged, a sign to other fishermen to leave these important lobsters in the sea. Unique lobsters are voluntarily handed off to aquariums for research and exhibition. To earn their place at the dinner table, select lobsters evaluated by Jacob must be healthy non-breeders of prime age and size.
Jacob is known for sharing the process on social media, educating millions on the sustainable fishing practices that keep Maine's lobster population healthy. With his livelihood and family legacy at stake, Jacob is committed to protecting this habitat, just as previous generations did for him.
Jacob Knowles was raised in this way of life, but upholding his family tradition is a choice he makes day in and day out. Jacob sees his line of work—soaked by the ocean mist, chilled by the wind, and pinched by a claw—as worth all the challenges it presents. His pride was evident after catching a large, 100–year–old lobster.
It's pretty crazy to think about it—my father has very likely caught this lobster at one point in his life; so has my grandfather, and possibly my great–grandfather, Jacob said. If you want to get crazy, it's possible my great–great–grandfather caught that lobster when it was a baby. They all fished in the same area for years.
His respect for the work is apparent. Jacob and his crew always pick up trash from the sea, and they never send a fish or lobster back home empty–handed—Jacob gives them a snack for their time. He makes it his mission to keep the habitat clean and healthy, ensuring he, his crew, and his descendants can continue the critical work of feeding the nation.
For Jacob, there is no better way of life.
I wouldn't trade it for the world. — Jacob Knowles
Fish Market, Catalina Offshore Products
After a long voyage at sea, a seasoned fishing crew pulls into the San Diego Bay with 5,000 pounds of tuna onboard. A land–based crew awaits them at the dock, eager to offload the haul and bring it to a warehouse. With chilled containers packed with freshly caught fish, there is no time to waste.
Our operation is a fine–tuned machine—it has to be efficient, because stuff goes bad fast, Griffin Catarius, retail sales manager at Catalina Offshore Products, explained. We're always on the move, getting things where they need to be.
Griffin and his colleague Mario Barajas, a sales rep and cutting station lead supervisor, shared their stories and discussed the final step from sea to store—seafood preparation and distribution. This is a rigorous, fast–paced, and dynamic industry. For Griffin and Mario, it is also a proud family tradition.
My dad's a commercial fisherman, so I grew up around the seafood industry, Griffin said. When I graduated from school, I just came back to what I know. I've always been drawn to it.
My dad basically raised me into it, showing me how to cut fish at a young age, Mario said. He would always talk about fish—the difference between the good and the bad stuff—so on a personal level, I want to make him proud.
Catalina Offshore Products primarily sources fish off the Pacific Coast, from Alaska down to Baja California. When the fish arrive at the warehouse, the work has only just begun.
With urgency and determination, the warehouse team evaluates each fish one by one to determine its quality, then ships the fish whole or cuts it to meet the needs of consumers and restaurants across the nation, including many throughout San Diego.
If someone's eating fish out here in San Diego, it's probably from us, Mario said. We keep it local to stay flexible, constantly working with local fishermen to bring in the kinds of fish that the market needs.
Griffin and Mario go above and beyond their duty to feed clients. They build relationships based on trust and honesty.
We try to educate people on sustainability, fish quality, fish preparation, and the industry in general, Mario explained. There are a lot of people that try to take advantage and sell bad stuff, lying the whole way. We don't work like that. We take pride in what we do.
Bridging the final gap from sea to store is a huge undertaking, and pride is a necessary component. Supplying fish is one of the oldest and most important jobs in the world—one forged by honor and integrity.
There's nothing like this industry. It's historic, even primal, Griffin said. We help feed a lot of people and enable them to live healthier lives.
It's something you have to be proud of. If you aren't, it shows up in your work. — Griffin Catarius