Off Season, The Series
The Unstoppable Force of Professional Softball Pitcher Montana Fouts
Montana Fouts plants herself like a tree on the softball mound. The standoff with her opponent in the batter's box intensifies with every second. She steps forward and thrusts her arm into action. Time slows down as Montana's arm swings with unstoppable force. The ball is on its way home, and it'll be a strike.
All the pressures for athletes, especially pitchers, coming from roaring crowds, glaring rivals, and hopeful teammates might break some. But not Montana. She's grounded by inner peace, she has won countless championships, awards, and a role in the Women's Professional Fastpitch softball league despite all the hardships.
Raised in the tranquil countryside of Kentucky, her roots are a source of calm. When pressure mounts and tensions on the field run high, she remembers the orange sunsets on her family's porch.
Armed with a supportive family, faith, and there ain't no place like home memories, Montana Fouts has become unstoppable.
There's no point in worrying about being the best—it's about giving it your all and being at peace with yourself.
An Early Start
Montana's passion for softball started when her dad brought her to the fields with a bat bag. By the time she was seven, she was competing in tournaments, loving life at home plate and on the pitcher's mound.
I realized that this is what I was going to do with my life, Montana tells us. I just fell in love with it, and I knew that if I could play college, I would play college. If I wanted to play pro, then I would play pro. Whatever it was going to take.
As Montana's passion grew, her identity became entangled with the sport. The pressure started to skyrocket, and the road toward softball greatness was bumpier than expected.
Mounting Pressure
After a series of injuries leading into her sophomore year at the University of Alabama, Montana came into her second season on shaky ground.
I probably had the worst year of my life, Montana explains. I felt like it was horrible, even if others didn't. I had so much self-doubt and kept thinking, 'Man, I don't really deserve to be here.'
Montana's lifelong dedication to softball launched her career to unimaginable heights, but it also made her fall much harder. Softball was her everything, and she knew she had a unique talent. Through her eyes, to fail on the field was to fail as a person.
It was a lot more than a game, she says.
High expectations, both from others and within, made Montana's physical struggles even more painful. With a college and professional career on the line, the stress reached a boiling point, and the overthinking became unbearable. There was only one solution—to return to her roots.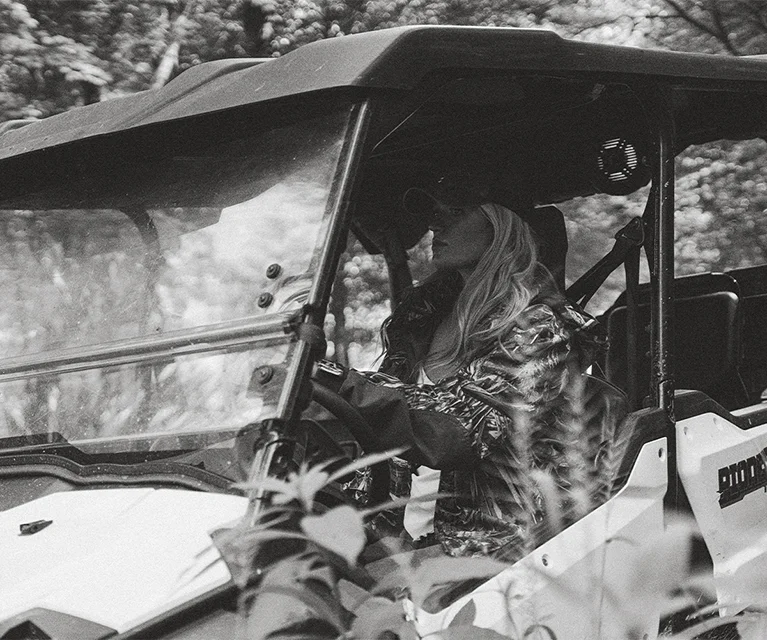 Grounded by the Countryside
With the 2020 season cut short, Montana Fouts slowly approached her childhood home and felt her frustrations with the previous season go down. Pausing to breathe in the fresh Kentucky air, she found herself surrounded by the warm, friendly faces that helped propel her to greatness.
The day–to–day of softball is like being underneath a microscope all the time, but my parents are always there to remind me that I have an identity beyond softball, Montana says. It's not who I am—it's just what I do. That's something they've been telling me my whole life, and now I really understand what they mean.
Time at home—camping, fishing, hunting, or spending time with her dog, Dixie—reminds Montana of what is important in life. While softball will always be a priority, she knows that connecting to her family, her faith, and her country lifestyle gives her inner peace on the field.
When Montana returned to the stadium, everything came together. The roaring crowds were just as loud, the stare-downs from the
opposing team just as stressful, but Montana stood firmly on the mound, unshaken.
With a heart full of gratitude and memories from home, Montana burst back onto the softball scene with unstoppable force. She pitched a perfect game against UCLA at the 2021 Women's College World Series, a feat that cemented her place as one of the greatest softball pitchers of all time.
After going through those challenges, I came back stronger by keeping the faith, trusting the process, and giving it all to my teammates, Montana says. Whenever we're down, we remember that we've come back from worse. Anything is possible if we keep the faith.
Sky is the Limit
Montana continued to set records throughout her college career and was named an All-American athlete four times in addition to many other awards. In 2023, she was drafted by the Vipers in Women's Professional Fastpitch.
I've always wanted to do exactly what I'm doing right now, Montana says. Sometimes when I'm on the field I just think,
'Wow, I'm actually living out my childhood dream.'
While living out her dream, Montana hopes to inspire girls to pursue their own. Her message is clear: persevere in the face of failure, keep the faith, and everything will come together. Most of all, she says, You've got to work hard so you can play without any regrets.
Looking ahead, Montana sees a commitment to softball that will grow right alongside her gratitude for home.
When the world gets really crazy, or there's a hundred million things to do, I find peace within myself so I can give it to everybody else on the team too, Montana says. I want to leave my entire heart for softball and my teammates no matter what.