Born of the Woods
Toxey Haas trudged through the dense foliage of Alabama, standing in awe as the rising sun cast a warm, golden hue upon the sprawling woodlands. The morning air felt crisp, and the anticipation of the hunt arose from the mist.
This was Toxey's inaugural hunt with his father, Mr. Fox Haas. Standing at his father's side, Toxey admired the man he would strive to emulate—a seasoned woodsman who always left things better than when he found them. Mr. Fox Haas carried an air of silent wisdom as he imparted his knowledge to his son, fostering a connection with the land that would carry Toxey through his adulthood.
Toxey's early introduction to the outdoors sparked his creation of Mossy Oak, a camouflage pattern inspired by the woods of Mississippi. Mossy Oak has become so much more since 1986—a renowned outdoor lifestyle company, a leader in conservation,
and a manifestation of the lessons Toxey learned from his father on their hunting trips.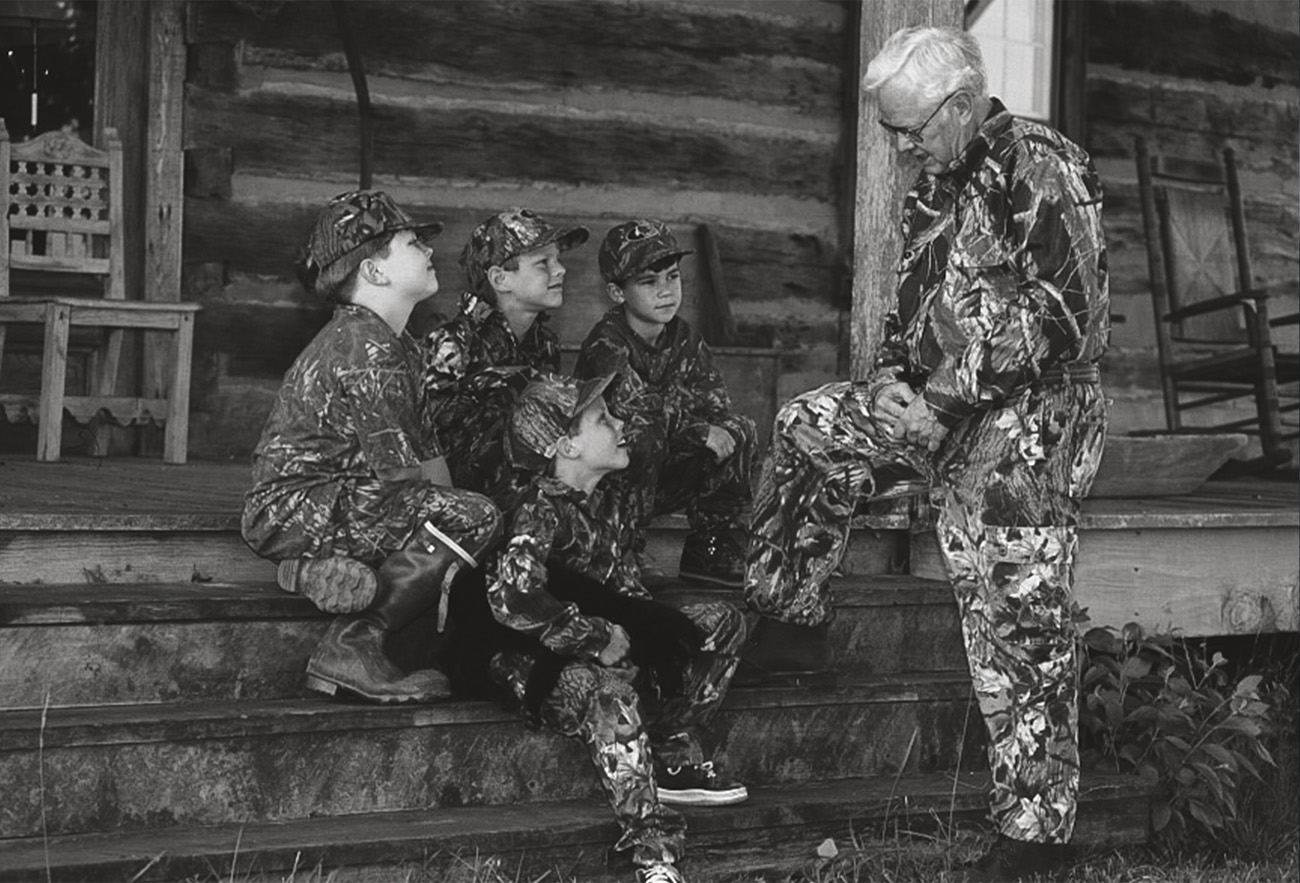 Fistful of Dirt
Toxey Haas, fueled by his formative experiences in the woods, emerged as an innovator of the outdoors lifestyle world. His vision for Mossy Oak sprang from a desire to bridge the gap between hunters and their environment. In doing so, his gear grants a tactical advantage while evoking a deep connection with nature. The wearer becomes an integral part of the landscape, their movements blending seamlessly with the rhythms of the wilderness.
For as long as I can remember, I was obsessed with the idea of being invisible to wildlife in the woods, Toxey recalled. I'd go hunting with my dad and just had this idea that if my clothes looked like an oak tree, I could sit anywhere I wanted and blend in.
Starting with the iconic design called Bottomland, Mossy Oak's patterns are rooted in the natural elements of the wilderness. As Toxey explained, The answer is right in front of us. It's nature. The right colors are already there.
The success of Bottomland fueled Toxey's creativity as he continued to develop additional patterns that catered to different environments and seasons. From humble origins—that fistful of Mississippi dirt first turned into a garment pattern in Toxey's mother's sewing room—Mossy Oak came to set the standard for all who lead an outdoors lifestyle.
Nature Prevails
My love for hunting has helped me realize it's not the hunting that I love the most, Toxey said.
Hunting is the world Toxey was raised in, but the world he finds himself in now goes far beyond. His fulfillment begins
and ends with the outdoors.
As I've gotten older, I've realized that there are more important parts of it all, like the land and critters that you are around while hunting and who you share those memories with, Toxey said. It's all a privilege and gift from God. The hunt is just a subset of that.
Given his lifelong connection to the Earth, it is no surprise that Toxey is committed to the conservation of nature. He emphasizes the crucial role hunters play in sustaining life in the wilderness, describing hunters as everything to wildlife management.
In Toxey's mind, a strong outdoors community is the best way to promote conservation.
This shared land ethic—we call it being a Gamekeeper—is essential if we're going to see these critters we love alive and well forever, Toxey said. Being a Gamekeeper means you are about the health of the land and wildlife, you see the land as a community that you're a part of, and you embrace the responsibility of being a caretaker of the land and passing on that responsibility to friends and future generations. That feeling is contagious.
To ensure that feeling catches on, Toxey Haas and Mossy Oak connect others while leading by example.
With nature programs streaming on Mossy Oak GO, two podcasts, and Gamekeeper Magazine, Mossy Oak utilizes their platform to cultivate deep connections to the land. They support countless organizations that keep sea and land habitats clean and healthy. Mossy Oak also sells plants and shares tips on growing and harvesting them through Nativ Nurseries.
Land is a community that we're a part of, and we're only able to enjoy what we have now because of the foresight of past generations, Toxey explained. Now we're the generations responsible for making sure our kids and grandkids get to have these same experiences and grow to love the land and care for it the way we have.
Toxey Haas plans on leaving the world in better shape than before. If you love hunting, fishing, and everything in the outdoors, he explained, then you're obligated to be part of the solution.
Family at the Forefront
Toxey's legacy as a naturalist was set in motion when his parents instilled a love of the land as their family tradition. With his three children following in his footsteps, Toxey ensures that tradition lives on. The family shares his commitment to conservation, using Mossy Oak as a vessel to preserve the wilderness for generations to come.
As Toxey reflects on his journey, he often recalls that first hunt with his father on that misty morning in the Alabama woods. The lessons he learned and the connection he felt to the wilderness laid the foundation for his life's work.
Planting a tree and watching it grow, seeing my kids and my grandkids get the same enrichment from the outdoors that I always have, it's the greatest feeling in the world, Toxey explained. Being able to foster that feeling through Mossy Oak and connect with people all over the country who share that same love of the land is an incredible thing.